In addition of EAZYDIVE, L'Aquaphile manufactures 5 other products which are briefly presented here (click to go directly to the desired device):
See the MAORA video
The mini trimaran dismountable for leasures
The MAORA is an innovative mini trimaran of 3 meters and 68 kg, dismountable, transportable on the roof of a car. It can be assembled by one person in less than 15 minutes.
Lively, fast, agile and full of tricks it will give you sensations that other leisure sailboats do not offer. It turns and gybes in a flash.
Its unbraced rigging provides power and flexibility. MAORA is a very pleasant and safe boat, always flat, even in gusts.
It can be used up to 15 knots (30 km/h) of wind when learning and 20 knots (40 km/h) for a more experienced sailor.
Features:
- The boat is composed of 4 unsinkable elements in rotomoulded polyethylene: the main hull (self-emptying), the cockpit, 
and the 2 side floats. 
- Two sails are available : Standard 6 mē or, in option, Sport (reinforced trasparent monofilm) 7 mē
- Length x width: 300 x 250 cm 
- Height: 485 cm 
- Draft: 20 cm (the MAORA has no daggerboard)
- Weight: 68 kg      
- Floatability: 400 liters      
- Maximum recommanded load: 112 kg 
- Maximum recommanded users: 1 adult and 1 children 
- Navigation category: D
- Certification and CE marking 
- Zero CO2 emission


See the PEDAYAK video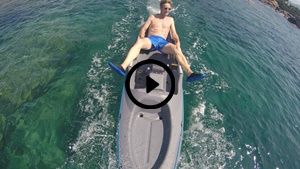 PEDAYAK is a kayak with pedals and propeller, fast, manoeuvring,"hands-free".
By its design and characteristics, it completely renews the current practice of kayaking.
Concentrate of innovation, it is the culmination of 10 years of R&D. 
PEDAYAK is a real mini boat, an elaborate version of a 360 cm long "sit-on-top" self-draining rotomoulded polyethylene 
kayak. 
It has the same systems as a real boat on a restricted space, which are: 
- A high-performance propeller propulsion system 
- A steering system with rudder and rudder. Their combination (the rudder is located just behind the propeller) allows 
manoeuvrability and a surprising agility on this type of boat. 
- On option: a rig with a 3.6 m² sail. Being the only kayak in the world with keels, it is also a high-performance, seaworthy 
and stable sailing boat that can sail upwind.
The PEDAYAK range includes 7 products which can be combined each others into 21 differents models:
PEDAYAK
PEDAYAK Electric
KIT TRIO
KIT PRAO
KIT GRAND PRAO
KIT DUO
RIG (SAIL)

Propulsion system with 
duck legs for paddle board
See the MAC DUCK video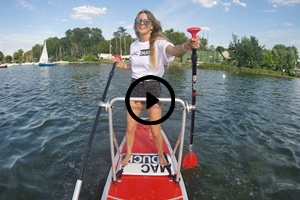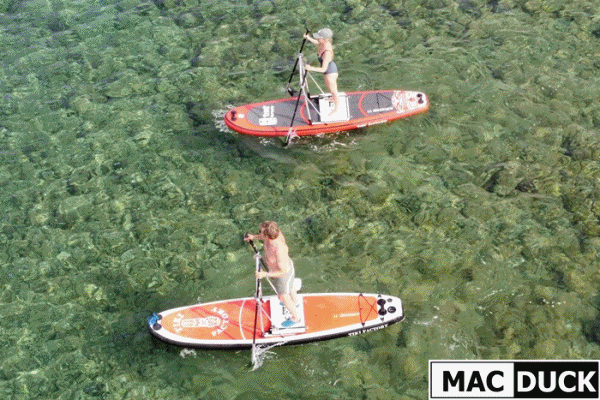 MAC DUCK is an innovative propulsion system for paddle boards based on the "duck foot" principle, adaptable to 
all paddles, preferably inflatable.
  
It is new and unique in the world.
  
By bringing pleasure and ease, it renews the practice of stand up paddle.  

MAC DUCK brings : 
Fun !
Speed: The regular alternating movement of the paddles, the ergonomics, the ease of use favour a good
performance in speed.
Stability: The paddler stands on the floor of the structure and holds onto the articulated paddles.

Manoeuvrability: A half-turn of both paddles allows for backward movement, a half-turn of one paddle: rotation on
the spot
Muscle building: When going forward the arm and shoulder push, when going backwards they pull. MAC DUCK builds
up arms, shoulders, back, abdominal muscles, abs and buttocks, just like an "elliptical" type machine well
known in gyms
It is easy to use.
Easy to assemble: MAC DUCK is delivered folded. It takes just one minute to assemble, with 4 knobs to screw on.
Easy to install on your paddle: MAC DUCK can be just put down, or strapped, or screwed on a mast base for example.
The simplest and cheapest diving kit in the world
EAZYDIVE is a low pressure full diving kit, allowing 60 mn dives to 10 meters deep

See the EAZYDIVE video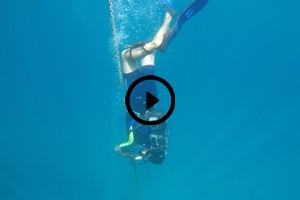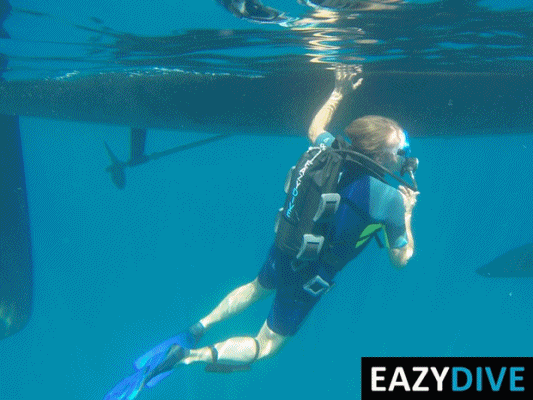 The innovative EAZYDIVE low pressure diving system can be used in 3 ways:
1. Scuba diving: The EAZYDIVE tank is inflated up to 12 bars by the compressor. It allows a dive of about 5 minutes.
2. Hookah diving: The diver is permanently supplied by the compressor through a 20 meters long air hose. It allows 
the dive to be extended up to 60 minutes. 

3. When using the hookah you can choose to have it flowing either directly into the regulator or into the tank.       
It is the only scuba diving system in the world that allows such possibilities.